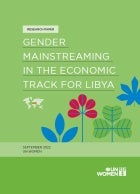 Women's economic empowerment is critical for sustainable peace and development in Libya. This study focuses on women's empowerment in the economic track of Libya's peace process. It considers the benefits of gender-mainstreaming and the normative framework that supports gender equality, including UN Security Council resolutions in relation to Libya and the Women, Peace and Security agenda, the peacebuilding framework for Libya and international human rights law.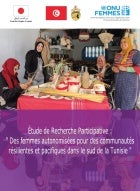 L'étude de recherche participative vient répondre aux questions suivantes: Quels sont les besoins des femmes et des jeunes filles au sud Tunisien? Quel est leur rôle dans la cohésion sociale et quelles sont les opportunités économiques pour elles? Elle vient proposer des pistes de solutions pour renforcer l'autonomisation des femmes et leur potentiel de résilience et leur rôle dans la cohésion sociale pour la prévention de l'extrémisme violent.
Morocco's Ministry of Economy and Finance, through its Department of Financial Studies and Forecasting (DEPF) in partnership with UN Women Morocco and with the support of the French Development Agency (AFD) and the European Union (EU), has conducted a new study on "Gender Analysis of the Contribution of Labour Utilization to Improved Living Standards: A Retrospective and Prospective Analysis in Light of the Recommendations of the New Development Model".