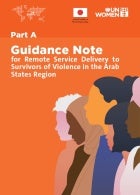 This toolkit is designed to support women-led civil society organisations (CSOs) in the Arab States region to strengthen their capacity to deliver remote services to survivors of violence against women and girls (VAWG).
This rapid assessment examines how the impacts of COVID-19 are threatening women's ability to access justice. The assessment reflects challenges faced by women and girls of diverse backgrounds and socio-economic groups, including those experiencing overlapping disadvantages and those facing amplified challenges in humanitarian settings. Cross-regional and local experiences are highlighted, and quantitative data is utilized where available.
Supported by photos, data, infographics, and individual stories of impact, UN Women's Fund for Gender Equality (FGE) annual report presents main aggregated results achieved by its 25 active projects. It highlights the process and outcomes of its fourth grant-making cycle, 2018–2019, a scaling and innovation initiative. The report also features FGE's South-South and triangular cooperation strategy, a few impact news from past projects, and two grantee partners' op-eds.