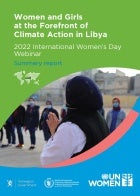 This publication summarizes discussions and recommendations produced during the Webinar organized by UN Women in Libya in celebration of the International Women's Day on 8 March 2022.
In collaboration with the European Union (EU), UN Women organized a regional partner event to present lessons learned from its programme "Strengthening the Resilience of Syrian Women and Girls and Host Communities in Iraq, Jordan and Turkey" funded through the EU Regional Trust Fund in response to the Syria Crisis, the 'MADAD' fund.
This year's regular resources report analyses how UN Women mobilized its core contributions in 2019 to fulfil its normative, coordination, and operational activities mandate, in order to improve the lives of women and girls worldwide. Through the presentation of tangible results, this report presents case studies at the global, regional, and country levels to showcase the impact that regular resources have in the countries where UN Women is present.