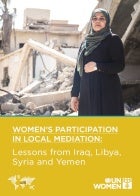 UN Women's new report "Women's Participation in Local Mediation: Lessons from Iraq, Libya, Syria, Yemen" sheds light on the diverse mediation roles women have played to resolve conflict and restore social cohesion in their communities.
Given the unique vulnerability of Syrian refugee women to GBV and specific linkages to economic vulnerability, UN Women together with UNHCR and the ILO commissioned a study to explore the (relationships between livelihoods and protection risks for Syrian refugee women, with specific aim to ensure programming is designed to mitigate risks and maximize positive outcomes.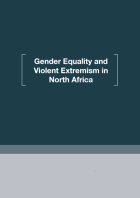 With support from the UK Government, UN Women Regional Office for the Arab States has been working since 2017 to deliver better evidence through quality research on gender equality, masculinities and violent extremism in North Africa to inform regional and global policy-making on the prevention of violent extremism (PVE) and Women, Peace and Security.