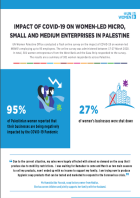 Amidst the COVID-19 pandemic, UN Women Palestine Office conducted a flash online survey on the impact of COVID-19 on women-led MSME's employing up to 95 employees. The online survey was administered between 17-27 March 2020. In total, 301 women entrepreneurs from the West Bank and Gaza responded to the survey. The infographic report shows a summary of 301 women respondents across Palestine.
In 1995, over 17,000 representatives from 189 nations met in Beijing at the Fourth World Conference on Women. The historic meeting resulted in the unanimous adoption of the Beijing Declaration and Platform for Action; an agenda considered to be the "Bill of Rights" for women. 25 years after Beijing, Member States, civil society organizations and women's rights advocates from across the globe are coming together to review the implementation of this agenda. Our newsletter will focus on the individuals and institutions leading this global process in the Arab States region.
This brochure aims to provide a preliminary summary of the achievements of the Arab countries in implementing the Beijing Declaration and Platform for Action 25 years after its adoption, focusing on the intersections of the twelve areas of concern with the sustainable development agenda.