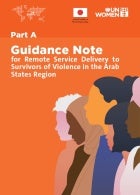 This toolkit is designed to support women-led civil society organisations (CSOs) in the Arab States region to strengthen their capacity to deliver remote services to survivors of violence against women and girls (VAWG).
This newsletter captures the latest updates on the implementation of the Women's Peace and Humanitarian Fund (WPHF) in Lebanon. The newsletter includes the key highlights and achievements of the WPHF programme partners' towards enhancing women's participation in the Beirut Port Explosion's response and recovery process.
Given the unique vulnerability of Syrian refugee women to GBV and specific linkages to economic vulnerability, UN Women together with UNHCR and the ILO commissioned a study to explore the (relationships between livelihoods and protection risks for Syrian refugee women, with specific aim to ensure programming is designed to mitigate risks and maximize positive outcomes.