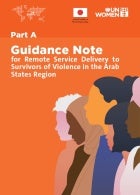 This toolkit is designed to support women-led civil society organisations (CSOs) in the Arab States region to strengthen their capacity to deliver remote services to survivors of violence against women and girls (VAWG).
Humanitarian needs continue to grow with nearly 132 million people in need of assistance in 2018, due to conflict, persecution, and natural disasters. The average humanitarian crisis now lasts more than nine years, and periods of forced displacement more than seventeen. Women and girls who make up approximately half of this 132 million face daily discrimination and violence. The breakdown of protection mechanisms and destruction of essential services and economic structures in crises hits the already marginalized hardest.
This manual is a compilation of the series of activities, exercises and handouts on masculinities that were used in ABAAD's masculinities trainings. The importance of this manual is that it consolidates the experiences and skills that have been accumulated throughout past trainings into a tool that provides the required information needed for a skilled trainer to conduct trainings on Masculinities and Engaging Men. Furthermore, this manual is the first contextual and culturally validated...