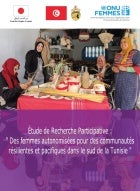 L'étude de recherche participative vient répondre aux questions suivantes: Quels sont les besoins des femmes et des jeunes filles au sud Tunisien? Quel est leur rôle dans la cohésion sociale et quelles sont les opportunités économiques pour elles? Elle vient proposer des pistes de solutions pour renforcer l'autonomisation des femmes et leur potentiel de résilience et leur rôle dans la cohésion sociale pour la prévention de l'extrémisme violent.
Few Syrian refugee and Lebanese women participate in the labour force in Lebanon, often due to critical gender barriers: housework and childcare obligations. This is particularly true for low-income women, who participate in economic activities at lower rates than men and are often unable to afford home help. Inadequate or absent childcare services contribute to women's economic inactivity and serve as barriers that limit women's mobility.
This brief highlights emerging evidence of the impact of the recent global pandemic of COVID-19 on violence against women and girls. It makes recommendations to be considered by all sectors of society, from governments to international organizations and to civil society organizations, in order to prevent and respond to violence against women and girls, at the onset, during, and after the public health crisis, with examples of actions already taken.