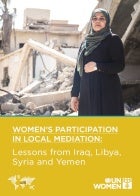 UN Women's new report "Women's Participation in Local Mediation: Lessons from Iraq, Libya, Syria, Yemen" sheds light on the diverse mediation roles women have played to resolve conflict and restore social cohesion in their communities.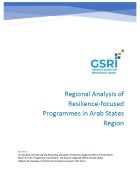 With thanks to the Government of Japan, who generously funded the regional LEAP and COVID-19 programmes as well as the resilience monitoring efforts, UN Women was able to roll-out the gender-sensitive resilience capacity index in 5 countries, namely Egypt, Iraq, Lebanon, Palestine and Yemen, through 11 of its implementing partners.
The brief explores the impact of the coronavirus pandemic and its gender dimensions in conflict settings with a focus on gender-based violence (GBV), women's participation in decision-making, labour markets and livelihoods. The paper outlines gender issues and recommendations for stakeholders and national/international actors with the aim of providing effective mitigation measures and actions in response to COVID-19.