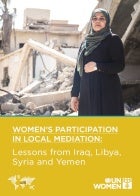 UN Women's new report "Women's Participation in Local Mediation: Lessons from Iraq, Libya, Syria, Yemen" sheds light on the diverse mediation roles women have played to resolve conflict and restore social cohesion in their communities.
UN Women conducted its first rapid assessment of the impact. of the COVID-19 pandemic on UN Women Oasis Centre beneficiaries in March 2020, when the first cases of COVID-19 were confirmed in the Hashemite Kingdom of Jordan. Fourteen months into the COVID-19 pandemic...
The brief explores the impact of the coronavirus pandemic and its gender dimensions in conflict settings with a focus on gender-based violence (GBV), women's participation in decision-making, labour markets and livelihoods. The paper outlines gender issues and recommendations for stakeholders and national/international actors with the aim of providing effective mitigation measures and actions in response to COVID-19.