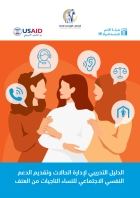 This training manual aims to build the capacity of service providers on case management and psychosocial support to women and girls' survivors of violence or exposed to its risk.
Progress of the World's Women 2015-2016 brings together human rights and economic policymaking, and provides the key elements for a far-reaching new policy agenda that can transform economies and make women's rights a reality. Through solid in-depth analysis and data, this evidence-based report provides key recommendations on moving towards an economy that truly works for women, for the benefit of all
Qualitative studies about the women in the region and their success stories. The stories you are about to read are live testaments to the fact that indeed those are difficult times but they are also full of opportunities that generate in us the continuous commitment to the work we are doing, and to the struggle we so fondly take on.