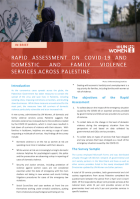 This brief suggests that domestic violence has increased in Palestine due to the conditions created by the COVID 19 pandemic, which in most cases resulted in a lockdown of survivors of violence with their abusers. With families in lockdown, helplines are seeing a surge of cases requesting a multitude of services.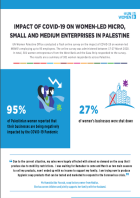 Amidst the COVID-19 pandemic, UN Women Palestine Office conducted a flash online survey on the impact of COVID-19 on women-led MSME's employing up to 95 employees. The online survey was administered between 17-27 March 2020. In total, 301 women entrepreneurs from the West Bank and Gaza responded to the survey. The infographic report shows a summary of 301 women respondents across Palestine.
Conducted by UNDP, UN Women, UNFPA, and ESCWA, this study on Gender Justice & the Law in the Arab States Region provides a comprehensive assessment of laws and policies affecting gender equality and protection against gender-based violence in Arab countries. The report is composed of 18 country profiles, each of which maps a country's key legislative developments and gaps regarding gender justice. This introduction provides an overall summary of these country chapters followed by a...