UN Women is at the forefront of the global drive to remove gender barriers because we believe in a world of justice and human rights for everyone. Towards that end, and as the only United Nations entity dedicated to gender equality, we marshal the world's best gender expertise and the considerable resources of the United Nations. We connect people in many realms, the national and international, the public and private, activists and officials. Together, our efforts are more than any of us could pursue alone.
This study and brief aim at providing insights on how gender and other intersecting inequalities impact the risk and vulnerability to HIV for women and girls in Africa.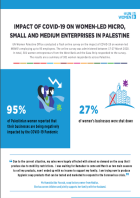 Amidst the COVID-19 pandemic, UN Women Palestine Office conducted a flash online survey on the impact of COVID-19 on women-led MSME's employing up to 95 employees. The online survey was administered between 17-27 March 2020. In total, 301 women entrepreneurs from the West Bank and Gaza responded to the survey. The infographic report shows a summary of 301 women respondents across Palestine.