This report on the proceedings of the global conference "Gender-inclusive peace processes: Strengthening women's meaningful participation through constituency building" explores current challenges, best practices, and recommendations on how best to leverage the practice of constituency building to further gender-inclusive peace.
This brief highlights emerging trends and impacts of COVID-19 on online and ICT-facilitated violence against women and girls (VAWG). It provides examples of strategies put in place to prevent and respond to online/ICT-facilitated VAWG and makes recommendations on how different actors can best address this issue. It is a living document that draws upon the knowledge and experience of a wide range of experts.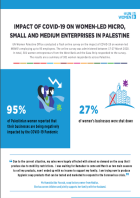 Amidst the COVID-19 pandemic, UN Women Palestine Office conducted a flash online survey on the impact of COVID-19 on women-led MSME's employing up to 95 employees. The online survey was administered between 17-27 March 2020. In total, 301 women entrepreneurs from the West Bank and Gaza responded to the survey. The infographic report shows a summary of 301 women respondents across Palestine.