This brief provides a set of recommendations to take stock of health, economic and social aspects of this unprecedented crisis to develop an exit strategy and to take advantage of this exceptional period to upgrade the mechanisms and structure in Tunisia. It also makes recommendations to adopt a gender approach in government post-COVID-19 strategy.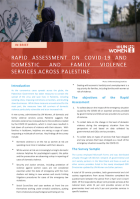 This brief suggests that domestic violence has increased in Palestine due to the conditions created by the COVID 19 pandemic, which in most cases resulted in a lockdown of survivors of violence with their abusers. With families in lockdown, helplines are seeing a surge of cases requesting a multitude of services.
This brief highlights emerging evidence of the impact of the recent global pandemic of COVID-19 on violence against women and girls. It makes recommendations to be considered by all sectors of society, from governments to international organizations and to civil society organizations, in order to prevent and respond to violence against women and girls, at the onset, during, and after the public health crisis, with examples of actions already taken.