This newsletter captures the latest updates on the implementation of the Women's Peace and Humanitarian Fund (WPHF) in Lebanon. The newsletter includes the key highlights and achievements of the WPHF programme partners' towards enhancing women's participation in the Beirut Port Explosion's response and recovery process.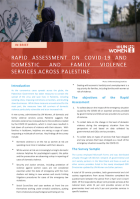 This brief suggests that domestic violence has increased in Palestine due to the conditions created by the COVID 19 pandemic, which in most cases resulted in a lockdown of survivors of violence with their abusers. With families in lockdown, helplines are seeing a surge of cases requesting a multitude of services.
The world is rapidly changing. Families, and the role of women and girls within them, are also changing. Today, there is no 'standard' family form, nor has there ever been. In order for laws and policies to support families and meet the needs of all their members, they must evolve and adapt. Progress of the World's Women assesses the scale and scope of transformations in family life and their implications for gender equality and women's empowerment.