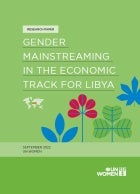 Women's economic empowerment is critical for sustainable peace and development in Libya. This study focuses on women's empowerment in the economic track of Libya's peace process. It considers the benefits of gender-mainstreaming and the normative framework that supports gender equality, including UN Security Council resolutions in relation to Libya and the Women, Peace and Security agenda, the peacebuilding framework for Libya and international human rights law.
Palestine's Second National Action Plan for the implementation of United Nations Security Council Resolution 1325 (UNSCR 1325) on Women, Peace and Security and Subsequent Resolutions follows the first National Action Plan adopted in 2016 recognizing the disproportionate impact of conflict and occupation on Palestinian women and girls and their vital participation in peacebuilding.
In collaboration with the European Union (EU), UN Women organized a regional partner event to present lessons learned from its programme "Strengthening the Resilience of Syrian Women and Girls and Host Communities in Iraq, Jordan and Turkey" funded through the EU Regional Trust Fund in response to the Syria Crisis, the 'MADAD' fund.