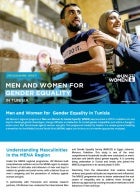 This brief presents a short description of the running programme "Men and Women for Gender Equality" in Tunisia, that seeks to mobilize men and boys to challenge gender stereotypes, change attitudes and behaviors to combat gender inequalities, and entice a change in social norms that discriminate against women and girls.
Le rapport a pour objet une veille normative sur les différentes mesures prises en Tunisie pour faire face à la crise de la Covid-19 durant la première vague (mars - août 2020) sous l'aune de l'approche genre.
Conducted by UNDP, UN Women, UNFPA, and ESCWA, this study on Gender Justice & the Law in the Arab States Region provides a comprehensive assessment of laws and policies affecting gender equality and protection against gender-based violence in Arab countries. The report is composed of 18 country profiles, each of which maps a country's key legislative developments and gaps regarding gender justice. This introduction provides an overall summary of these country chapters followed by a...