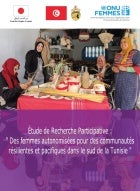 L'étude de recherche participative vient répondre aux questions suivantes: Quels sont les besoins des femmes et des jeunes filles au sud Tunisien? Quel est leur rôle dans la cohésion sociale et quelles sont les opportunités économiques pour elles? Elle vient proposer des pistes de solutions pour renforcer l'autonomisation des femmes et leur potentiel de résilience et leur rôle dans la cohésion sociale pour la prévention de l'extrémisme violent.
The 'Year of Egyptian Women' has opened a historical window of opportunity for the advancement of gender equality and women's empowerment (GEWE) in Egypt. The launch of the National Women's Empowerment Strategy (2017-2030) has firmed the political commitment towards realizing women's political, economic and social rights as granted by the Constitution. The ambitious goals and targets do not only place women's empowerment as a prerequisite for achieving gender...
The Global Guidance, developed by UN Women and UNESCO, provides key information to governments, policy-makers, teachers, practitioners and civil society who wish to take concrete action against school-related gender-based violence. It introduces approaches, methodologies, tools and resources that have shown positive results in preventing and responding to gender-based violence in schools settings. It should contribute to further promote the generation of knowledge, evidence and standards of response against this pervasive problem.