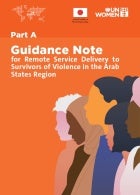 This toolkit is designed to support women-led civil society organisations (CSOs) in the Arab States region to strengthen their capacity to deliver remote services to survivors of violence against women and girls (VAWG).
Gender equality cannot be achieved in Lebanon without dismantling the kafala system and creating legal protections for domestic workers. Women make up an estimated 76 per cent of all migrant workers and 99 per cent of migrant domestic workers who come to Lebanon for employment.
Are we on track to achieve gender equality and the empowerment of women and girls? This report brings together the latest available evidence on gender equality across all 17 Sustainable Development Goals, underscoring the progress made as well as the action still needed to accelerate progress.