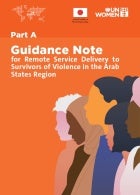 This toolkit is designed to support women-led civil society organisations (CSOs) in the Arab States region to strengthen their capacity to deliver remote services to survivors of violence against women and girls (VAWG).
This publication is produced by Musawah with support from UN Women within the framework of the 'Men and Women for Gender Equality' regional programme funded by Sweden.
Around the world, young women are working to prevent violent conflict, recover from crises, and build peaceful, tolerant communities, yet most peace and security interventions are blind to the needs and contributions of young women. This paper examines the diverse roles that young women play in these contexts and offers recommendations for ensuring their meaningful inclusion and participation in building and sustaining peace.