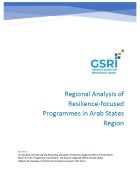 With thanks to the Government of Japan, who generously funded the regional LEAP and COVID-19 programmes as well as the resilience monitoring efforts, UN Women was able to roll-out the gender-sensitive resilience capacity index in 5 countries, namely Egypt, Iraq, Lebanon, Palestine and Yemen, through 11 of its implementing partners.
UN Women Achievements Report gives a comprehensive overview on the main programmes implemented by UN Women Egypt during 2018 in collaboration with its various partners across the four impact areas: Women's Political Empowerment (WPE), Women's Economic Empowerment, Ending Violence against Women (EVAW) and Engaging Men and Boys in Gender Equality. It also features the main achievements of the programmes while highlighting the progress made under communications and partnerships.

This report represents the conclusions of two sessions held in Tunis, Tunisia on 12-13 May 2016 with members of parliament, representatives of ministries / government bodies responsible for monitoring and evaluating the SDGS, women national machineries and evaluators from across the Arab States region.