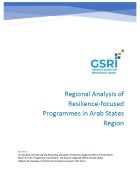 With thanks to the Government of Japan, who generously funded the regional LEAP and COVID-19 programmes as well as the resilience monitoring efforts, UN Women was able to roll-out the gender-sensitive resilience capacity index in 5 countries, namely Egypt, Iraq, Lebanon, Palestine and Yemen, through 11 of its implementing partners.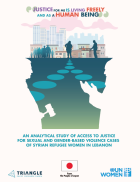 The aim of the study is to understand the pathways that Syrian refugee women utilise to access justice for SGBV cases in Lebanon, both in the state legal and judicial system (formal) and within community-based mechanisms (informal).
Palestine's Second National Action Plan for the implementation of United Nations Security Council Resolution 1325 (UNSCR 1325) on Women, Peace and Security and Subsequent Resolutions follows the first National Action Plan adopted in 2016 recognizing the disproportionate impact of conflict and occupation on Palestinian women and girls and their vital participation in peacebuilding.