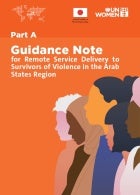 This toolkit is designed to support women-led civil society organisations (CSOs) in the Arab States region to strengthen their capacity to deliver remote services to survivors of violence against women and girls (VAWG).
This newsletter captures the latest updates on the implementation of the Women's Peace and Humanitarian Fund (WPHF) in Lebanon. The newsletter includes the key highlights and achievements of the WPHF programme partners' towards enhancing women's participation in the Beirut Port Explosion's response and recovery process.
Humanitarian needs continue to grow with nearly 132 million people in need of assistance in 2018, due to conflict, persecution, and natural disasters. The average humanitarian crisis now lasts more than nine years, and periods of forced displacement more than seventeen. Women and girls who make up approximately half of this 132 million face daily discrimination and violence. The breakdown of protection mechanisms and destruction of essential services and economic structures in crises hits the already marginalized hardest.