Gender equality cannot be achieved in Lebanon without dismantling the kafala system and creating legal protections for domestic workers. Women make up an estimated 76 per cent of all migrant workers and 99 per cent of migrant domestic workers who come to Lebanon for employment.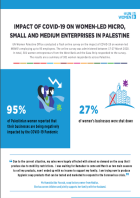 Amidst the COVID-19 pandemic, UN Women Palestine Office conducted a flash online survey on the impact of COVID-19 on women-led MSME's employing up to 95 employees. The online survey was administered between 17-27 March 2020. In total, 301 women entrepreneurs from the West Bank and Gaza responded to the survey. The infographic report shows a summary of 301 women respondents across Palestine.
Are we on track to achieve gender equality and the empowerment of women and girls? This report brings together the latest available evidence on gender equality across all 17 Sustainable Development Goals, underscoring the progress made as well as the action still needed to accelerate progress.