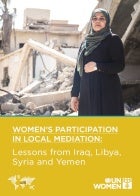 UN Women's new report "Women's Participation in Local Mediation: Lessons from Iraq, Libya, Syria, Yemen" sheds light on the diverse mediation roles women have played to resolve conflict and restore social cohesion in their communities.
The analysis included in this report builds upon data collected through the LEAP project and sought to provide evidence around key resilience issues.
In Iraq, the UN system is committed to supporting the government to overcome these unparalleled crises, through the 2020-2024 United Nations Sustainable Development Cooperation Framework (UNSDCF) designed to support the State and Iraqi people to achieve their National Development Plan targets, aligned with the Sustainable Development Goals. This includes supporting a diversified economy, preceded by reforms to encourage private sector investment, to make the country more resilient to oil shocks and to boost employment in highly productive sectors.