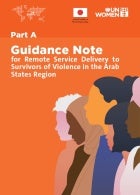 This toolkit is designed to support women-led civil society organisations (CSOs) in the Arab States region to strengthen their capacity to deliver remote services to survivors of violence against women and girls (VAWG).
This year's regular resources report analyses how UN Women mobilized its core contributions in 2019 to fulfil its normative, coordination, and operational activities mandate, in order to improve the lives of women and girls worldwide. Through the presentation of tangible results, this report presents case studies at the global, regional, and country levels to showcase the impact that regular resources have in the countries where UN Women is present.
Humanitarian needs continue to grow with nearly 132 million people in need of assistance in 2018, due to conflict, persecution, and natural disasters. The average humanitarian crisis now lasts more than nine years, and periods of forced displacement more than seventeen. Women and girls who make up approximately half of this 132 million face daily discrimination and violence. The breakdown of protection mechanisms and destruction of essential services and economic structures in crises hits the already marginalized hardest.