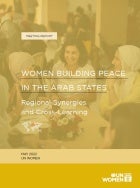 In May 2022, the UN Women Regional Office for Arab States and the Government of Finland organized a two-day workshop titled "Women Building Peace in the Arab States: Regional Synergies and Cross-Learning" to highlight women's mediation efforts in their communities and the lessons learned from interventions under the regional WPS programme and the Syria WPS programme.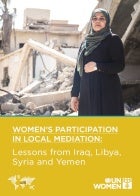 UN Women's new report "Women's Participation in Local Mediation: Lessons from Iraq, Libya, Syria, Yemen" sheds light on the diverse mediation roles women have played to resolve conflict and restore social cohesion in their communities.
This study and brief aim at providing insights on how gender and other intersecting inequalities impact the risk and vulnerability to HIV for women and girls in Africa.