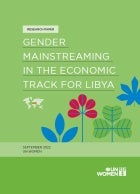 Women's economic empowerment is critical for sustainable peace and development in Libya. This study focuses on women's empowerment in the economic track of Libya's peace process. It considers the benefits of gender-mainstreaming and the normative framework that supports gender equality, including UN Security Council resolutions in relation to Libya and the Women, Peace and Security agenda, the peacebuilding framework for Libya and international human rights law.
On 13 April 2021, the beginning of the fasting month of Ramadan, unrest began in East Jerusalem after the Israeli authorities installed metal barriers outside the Damascus Gate, blocking access to a public area for Palestinians.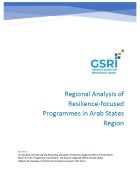 With thanks to the Government of Japan, who generously funded the regional LEAP and COVID-19 programmes as well as the resilience monitoring efforts, UN Women was able to roll-out the gender-sensitive resilience capacity index in 5 countries, namely Egypt, Iraq, Lebanon, Palestine and Yemen, through 11 of its implementing partners.