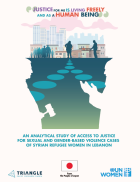 The aim of the study is to understand the pathways that Syrian refugee women utilise to access justice for SGBV cases in Lebanon, both in the state legal and judicial system (formal) and within community-based mechanisms (informal).
Il est vrai que les soins dans le secteur public ont connu une amélioration en termes d'existence de structures sanitaires et de centres de santé de base répartis sur l'ensemble du territoire. Toutefois, les violences dans certaines de ces structures, dont le milieu obstétricale, sont fréquentes et laissent des cicatrices invisibles mais douloureuses.
UN Women Achievements Report gives a comprehensive overview on the main programmes implemented by UN Women Egypt during 2018 in collaboration with its various partners across the four impact areas: Women's Political Empowerment (WPE), Women's Economic Empowerment, Ending Violence against Women (EVAW) and Engaging Men and Boys in Gender Equality. It also features the main achievements of the programmes while highlighting the progress made under communications and partnerships.