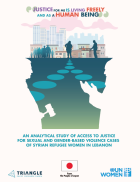 The aim of the study is to understand the pathways that Syrian refugee women utilise to access justice for SGBV cases in Lebanon, both in the state legal and judicial system (formal) and within community-based mechanisms (informal).
UN Women is at the forefront of the global drive to remove gender barriers because we believe in a world of justice and human rights for everyone. Towards that end, and as the only United Nations entity dedicated to gender equality, we marshal the world's best gender expertise and the considerable resources of the United Nations. We connect people in many realms, the national and international, the public and private, activists and officials. Together, our efforts are more than any of us could pursue alone.
Il est vrai que les soins dans le secteur public ont connu une amélioration en termes d'existence de structures sanitaires et de centres de santé de base répartis sur l'ensemble du territoire. Toutefois, les violences dans certaines de ces structures, dont le milieu obstétricale, sont fréquentes et laissent des cicatrices invisibles mais douloureuses.