Marking the 20th anniversary of UN Security Council Resolution (UNSCR) 1325 (2000), UN Women, Wilton Park, the Elders and the UK Foreign, Commonwealth and Development Office, with support from the Government of Germany, convened a high level virtual conference that brought together over 60 experienced peace practitioners, policy makers, women peacebuilders from the region and other regions and multilateral officials to discuss opportunities and challenges for women's meaningful inclusion in peace processes in the Arab world. The report outlines key points raised by participants throughout the virtual convening, as well as recommendations to enhance women's inclusion in mediation and conflict resolution processes in the region.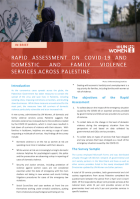 This brief suggests that domestic violence has increased in Palestine due to the conditions created by the COVID 19 pandemic, which in most cases resulted in a lockdown of survivors of violence with their abusers. With families in lockdown, helplines are seeing a surge of cases requesting a multitude of services.
UN Women Achievements Report gives a comprehensive overview on the main programmes implemented by UN Women Egypt during 2018 in collaboration with its various partners across the four impact areas: Women's Political Empowerment (WPE), Women's Economic Empowerment, Ending Violence against Women (EVAW) and Engaging Men and Boys in Gender Equality. It also features the main achievements of the programmes while highlighting the progress made under communications and partnerships.