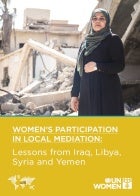 UN Women's new report "Women's Participation in Local Mediation: Lessons from Iraq, Libya, Syria, Yemen" sheds light on the diverse mediation roles women have played to resolve conflict and restore social cohesion in their communities.
This assessment developed by UNW, UNHCR, WFP and UNICEF demonstrate gender inequalities across the Syrian refugee population, limiting access, rights and opportunities for women and girls, particularly as related to economic participation, education, food insecurity, humanitarian assistance, legal issues, and wider protections, including sexual and gender-based violence.
Given the unique vulnerability of Syrian refugee women to GBV and specific linkages to economic vulnerability, UN Women together with UNHCR and the ILO commissioned a study to explore the (relationships between livelihoods and protection risks for Syrian refugee women, with specific aim to ensure programming is designed to mitigate risks and maximize positive outcomes.