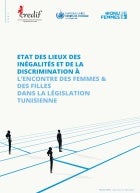 Le Bureau du Haut-Commissariat des Nations Unies aux Droits de l'Homme en Tunisie, l'ONU Femmes Tunisie et le Centre de recherche, d'études, de Documentation et d'Information sur la Femme(CREDIF) ont conjointement réalisé une étude relative à l'état des lieux des inégalités et de la discrimination à l'encontre des femmes et des filles dans la législation tunisienne en en 2016 puis mise à jour en 2021.
This assessment developed by UNW, UNHCR, WFP and UNICEF demonstrate gender inequalities across the Syrian refugee population, limiting access, rights and opportunities for women and girls, particularly as related to economic participation, education, food insecurity, humanitarian assistance, legal issues, and wider protections, including sexual and gender-based violence.
This guidance note seeks to assist policy and programme actors to conduct rapid assessments that are fully responsive to gender and intersectionality. It is focused on three critical steps: the development of assessment surveys/questionnaires, their implementation, the analysis of findings and resulting recommendations.