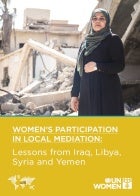 UN Women's new report "Women's Participation in Local Mediation: Lessons from Iraq, Libya, Syria, Yemen" sheds light on the diverse mediation roles women have played to resolve conflict and restore social cohesion in their communities.
Conducted by UNDP, UN Women, UNFPA, and ESCWA, this study on Gender Justice & the Law in the Arab States Region provides a comprehensive assessment of laws and policies affecting gender equality and protection against gender-based violence in Arab countries. The report is composed of 18 country profiles, each of which maps a country's key legislative developments and gaps regarding gender justice. This introduction provides an overall summary of these country chapters followed by a...
UN Women, with financial support from the German Federal Ministry for Economic Cooperation and Development (BMZ) and in partnership with the Inclusive Peace and Transition Initiative (IPTI) at the Graduate School Geneva, organized a three-day meeting entitled Mobilizing women in the MENA region: Roadmaps for peace in Iraq, Syria and Yemen. The meeting was held in Beirut, Lebanon from 19 – 21 June 2018 and aimed to provide a space for women's rights actors from conflict affected countries to engage in closed-door strategic planning around building momentum for inclusive peace.