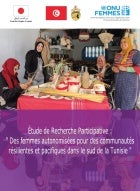 L'étude de recherche participative vient répondre aux questions suivantes: Quels sont les besoins des femmes et des jeunes filles au sud Tunisien? Quel est leur rôle dans la cohésion sociale et quelles sont les opportunités économiques pour elles? Elle vient proposer des pistes de solutions pour renforcer l'autonomisation des femmes et leur potentiel de résilience et leur rôle dans la cohésion sociale pour la prévention de l'extrémisme violent.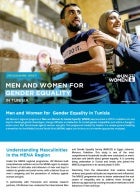 This brief presents a short description of the running programme "Men and Women for Gender Equality" in Tunisia, that seeks to mobilize men and boys to challenge gender stereotypes, change attitudes and behaviors to combat gender inequalities, and entice a change in social norms that discriminate against women and girls.
Le rapport a pour objet une veille normative sur les différentes mesures prises en Tunisie pour faire face à la crise de la Covid-19 durant la première vague (mars - août 2020) sous l'aune de l'approche genre.