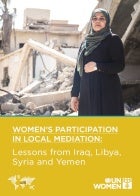 UN Women's new report "Women's Participation in Local Mediation: Lessons from Iraq, Libya, Syria, Yemen" sheds light on the diverse mediation roles women have played to resolve conflict and restore social cohesion in their communities.
Ce Policy Brief met l'accent sur les différentes formes d'impact de la COVID-19 sur la santé des femmes en Tunisie. Durant la première période de l'épidémie, de nombreuses prestations sanitaires ont été reportées tandis que le personnel hospitalier se consacrait à la préparation des services de santé pour s'attaquer à la COVID-19.
UN Women, with financial support from the German Federal Ministry for Economic Cooperation and Development (BMZ) and in partnership with the Inclusive Peace and Transition Initiative (IPTI) at the Graduate School Geneva, organized a three-day meeting entitled Mobilizing women in the MENA region: Roadmaps for peace in Iraq, Syria and Yemen. The meeting was held in Beirut, Lebanon from 19 – 21 June 2018 and aimed to provide a space for women's rights actors from conflict affected countries to engage in closed-door strategic planning around building momentum for inclusive peace.