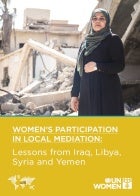 UN Women's new report "Women's Participation in Local Mediation: Lessons from Iraq, Libya, Syria, Yemen" sheds light on the diverse mediation roles women have played to resolve conflict and restore social cohesion in their communities.
The brief explores the impact of the coronavirus pandemic and its gender dimensions in conflict settings with a focus on gender-based violence (GBV), women's participation in decision-making, labour markets and livelihoods. The paper outlines gender issues and recommendations for stakeholders and national/international actors with the aim of providing effective mitigation measures and actions in response to COVID-19.
The brief highlights the significant role women play in the response to combating the COVID-19 pandemic, particularly as health care professionals, home-based caregivers, and through their role as social facilitators and coordinators within communities. The response to the COVID-19 crisis highlights event more their essential contribution at all levels. In Morocco, women account for 57% of medical staff, 66% of paramedical staff and 64% of social sector civil servants.