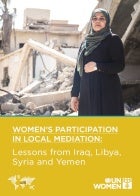 UN Women's new report "Women's Participation in Local Mediation: Lessons from Iraq, Libya, Syria, Yemen" sheds light on the diverse mediation roles women have played to resolve conflict and restore social cohesion in their communities.
This newsletter captures the latest updates on the implementation of the Women's Peace and Humanitarian Fund (WPHF) in Lebanon. The newsletter includes the key highlights and achievements of the WPHF programme partners' towards enhancing women's participation in the Beirut Port Explosion's response and recovery process.
This paper summarizes some of the challenges young Libyan women face and offers recommendations for international, national, and local stakeholders. The challenges and recommendations outlined here are drawn directly from a series of conferences held with and by young Libyan women, and were developed through further research and consultation.