UN Women, the IFC and the UN Global Compact have taken action to support companies and women in the Arab States during COVID-19, recognizing that eliminating barriers to women's economic participation and empowerment drives the growth of businesses and economies and improves the lives of families and communities.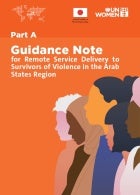 This toolkit is designed to support women-led civil society organisations (CSOs) in the Arab States region to strengthen their capacity to deliver remote services to survivors of violence against women and girls (VAWG).
UN Women is at the forefront of the global drive to remove gender barriers because we believe in a world of justice and human rights for everyone. Towards that end, and as the only United Nations entity dedicated to gender equality, we marshal the world's best gender expertise and the considerable resources of the United Nations. We connect people in many realms, the national and international, the public and private, activists and officials. Together, our efforts are more than any of us could pursue alone.