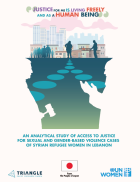 The aim of the study is to understand the pathways that Syrian refugee women utilise to access justice for SGBV cases in Lebanon, both in the state legal and judicial system (formal) and within community-based mechanisms (informal).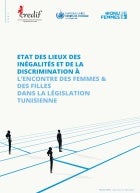 Le Bureau du Haut-Commissariat des Nations Unies aux Droits de l'Homme en Tunisie, l'ONU Femmes Tunisie et le Centre de recherche, d'études, de Documentation et d'Information sur la Femme(CREDIF) ont conjointement réalisé une étude relative à l'état des lieux des inégalités et de la discrimination à l'encontre des femmes et des filles dans la législation tunisienne en en 2016 puis mise à jour en 2021.
Around the world, young women are working to prevent violent conflict, recover from crises, and build peaceful, tolerant communities, yet most peace and security interventions are blind to the needs and contributions of young women. This paper examines the diverse roles that young women play in these contexts and offers recommendations for ensuring their meaningful inclusion and participation in building and sustaining peace.