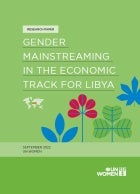 Women's economic empowerment is critical for sustainable peace and development in Libya. This study focuses on women's empowerment in the economic track of Libya's peace process. It considers the benefits of gender-mainstreaming and the normative framework that supports gender equality, including UN Security Council resolutions in relation to Libya and the Women, Peace and Security agenda, the peacebuilding framework for Libya and international human rights law.
In October 2019, hundreds of thousands of Lebanese people took to the streets to protest the imposition of new taxes and the worsening economic, social and political crises gripping the country.
This year's regular resources report analyses how UN Women mobilized its core contributions in 2019 to fulfil its normative, coordination, and operational activities mandate, in order to improve the lives of women and girls worldwide. Through the presentation of tangible results, this report presents case studies at the global, regional, and country levels to showcase the impact that regular resources have in the countries where UN Women is present.