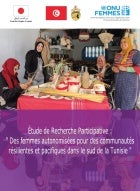 L'étude de recherche participative vient répondre aux questions suivantes: Quels sont les besoins des femmes et des jeunes filles au sud Tunisien? Quel est leur rôle dans la cohésion sociale et quelles sont les opportunités économiques pour elles? Elle vient proposer des pistes de solutions pour renforcer l'autonomisation des femmes et leur potentiel de résilience et leur rôle dans la cohésion sociale pour la prévention de l'extrémisme violent.
This year's regular resources report analyses how UN Women mobilized its core contributions in 2019 to fulfil its normative, coordination, and operational activities mandate, in order to improve the lives of women and girls worldwide. Through the presentation of tangible results, this report presents case studies at the global, regional, and country levels to showcase the impact that regular resources have in the countries where UN Women is present.
This rapid assessment examines how the impacts of COVID-19 are threatening women's ability to access justice. The assessment reflects challenges faced by women and girls of diverse backgrounds and socio-economic groups, including those experiencing overlapping disadvantages and those facing amplified challenges in humanitarian settings. Cross-regional and local experiences are highlighted, and quantitative data is utilized where available.