This publication is produced by Musawah with support from UN Women within the framework of the 'Men and Women for Gender Equality' regional programme funded by Sweden.
Ending child marriage is fundamental to gender equality, women's empowerment, and improving maternal and child health worldwide. It is also an important part of safeguarding the stability of communities and the global economy. This background paper provides an overview of the scope, drivers and consequences of child marriage in the Arab region. It also discusses the importance of estimating the cost of child marriage, examines the feasibility of undertaking a costing study in the Arab region, and reviews the availability of data needed to implement such a task, as well as the appropriate framework to consider when approaching costing child marriage in the region.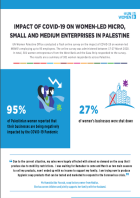 Amidst the COVID-19 pandemic, UN Women Palestine Office conducted a flash online survey on the impact of COVID-19 on women-led MSME's employing up to 95 employees. The online survey was administered between 17-27 March 2020. In total, 301 women entrepreneurs from the West Bank and Gaza responded to the survey. The infographic report shows a summary of 301 women respondents across Palestine.