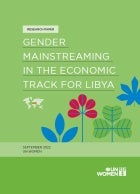 Women's economic empowerment is critical for sustainable peace and development in Libya. This study focuses on women's empowerment in the economic track of Libya's peace process. It considers the benefits of gender-mainstreaming and the normative framework that supports gender equality, including UN Security Council resolutions in relation to Libya and the Women, Peace and Security agenda, the peacebuilding framework for Libya and international human rights law.
This newsletter captures the latest updates on the implementation of the Women's Peace and Humanitarian Fund (WPHF) in Lebanon. The newsletter includes the key highlights and achievements of the WPHF programme partners' towards enhancing women's participation in the Beirut Port Explosion's response and recovery process.
This manual is a compilation of the series of activities, exercises and handouts on masculinities that were used in ABAAD's masculinities trainings. The importance of this manual is that it consolidates the experiences and skills that have been accumulated throughout past trainings into a tool that provides the required information needed for a skilled trainer to conduct trainings on Masculinities and Engaging Men. Furthermore, this manual is the first contextual and culturally validated...