This brief highlights key findings from a small-scale time-use survey conducted by ARDD in April 2021 that address how women in Jordan perform care work, how they feel about it, and their perspectives and recommendations on how the burden of care work can be redistributed through social protection mechanisms and other policies.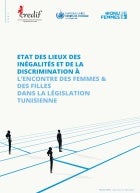 Le Bureau du Haut-Commissariat des Nations Unies aux Droits de l'Homme en Tunisie, l'ONU Femmes Tunisie et le Centre de recherche, d'études, de Documentation et d'Information sur la Femme(CREDIF) ont conjointement réalisé une étude relative à l'état des lieux des inégalités et de la discrimination à l'encontre des femmes et des filles dans la législation tunisienne en en 2016 puis mise à jour en 2021.
This publication is produced by Musawah with support from UN Women within the framework of the 'Men and Women for Gender Equality' regional programme funded by Sweden. The policy brief outlines outlines how divorce provisions in many Muslim family laws are unfair and can be damaging to women and their children—but we can reform those laws.