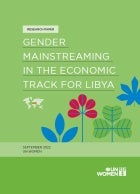 Women's economic empowerment is critical for sustainable peace and development in Libya. This study focuses on women's empowerment in the economic track of Libya's peace process. It considers the benefits of gender-mainstreaming and the normative framework that supports gender equality, including UN Security Council resolutions in relation to Libya and the Women, Peace and Security agenda, the peacebuilding framework for Libya and international human rights law.
Few Syrian refugee and Lebanese women participate in the labour force in Lebanon, often due to critical gender barriers: housework and childcare obligations. This is particularly true for low-income women, who participate in economic activities at lower rates than men and are often unable to afford home help. Inadequate or absent childcare services contribute to women's economic inactivity and serve as barriers that limit women's mobility.
Crisis management or emergency situations such as COVID-19 can have serious impacts on the lives of women and girls, if gender dimensions are not considered. Issues such as care work, economic autonomy, physical or sexual violence, women's participation in decision-making, disaggregation of data by sex, gender analysis, and irregular migration are just some of the areas of concern that must be part of an effective response to the health crisis that the world is going through right now.