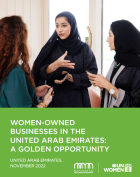 Women-owned businesses (WOBs) in the Middle East and Northern Africa (MENA) region could make significant contributions to entrepreneurial activity and countries' economic growth, but face challenges and barriers. This report examines access to finance in the United Arab Emirates for WOBs; describes government and private measures to promote women's entrepreneurship; looks at global best practices and makes recommendations for policymakers and stakeholders to improve women-owned businesses' access to financing.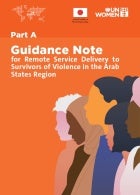 This toolkit is designed to support women-led civil society organisations (CSOs) in the Arab States region to strengthen their capacity to deliver remote services to survivors of violence against women and girls (VAWG).
This year's regular resources report analyses how UN Women mobilized its core contributions in 2019 to fulfil its normative, coordination, and operational activities mandate, in order to improve the lives of women and girls worldwide. Through the presentation of tangible results, this report presents case studies at the global, regional, and country levels to showcase the impact that regular resources have in the countries where UN Women is present.