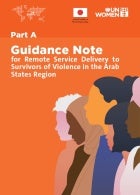 This toolkit is designed to support women-led civil society organisations (CSOs) in the Arab States region to strengthen their capacity to deliver remote services to survivors of violence against women and girls (VAWG).
This year's regular resources report analyses how UN Women mobilized its core contributions in 2019 to fulfil its normative, coordination, and operational activities mandate, in order to improve the lives of women and girls worldwide. Through the presentation of tangible results, this report presents case studies at the global, regional, and country levels to showcase the impact that regular resources have in the countries where UN Women is present.
Around the world, young women are working to prevent violent conflict, recover from crises, and build peaceful, tolerant communities, yet most peace and security interventions are blind to the needs and contributions of young women. This paper examines the diverse roles that young women play in these contexts and offers recommendations for ensuring their meaningful inclusion and participation in building and sustaining peace.