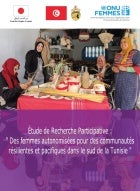 L'étude de recherche participative vient répondre aux questions suivantes: Quels sont les besoins des femmes et des jeunes filles au sud Tunisien? Quel est leur rôle dans la cohésion sociale et quelles sont les opportunités économiques pour elles? Elle vient proposer des pistes de solutions pour renforcer l'autonomisation des femmes et leur potentiel de résilience et leur rôle dans la cohésion sociale pour la prévention de l'extrémisme violent.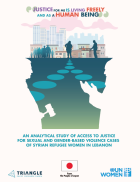 The aim of the study is to understand the pathways that Syrian refugee women utilise to access justice for SGBV cases in Lebanon, both in the state legal and judicial system (formal) and within community-based mechanisms (informal).
In collaboration with the European Union (EU), UN Women organized a regional partner event to present lessons learned from its programme "Strengthening the Resilience of Syrian Women and Girls and Host Communities in Iraq, Jordan and Turkey" funded through the EU Regional Trust Fund in response to the Syria Crisis, the 'MADAD' fund.